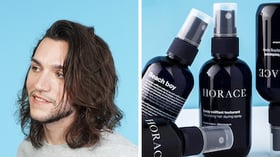 What's a texturising hair styling spray?
Volume and light hold in just a few spritzes, as if you're just coming back from the beach.
You've surely notices that after a swim in the sea, once your hair dries, it gains texture and volume. This is due to the sea salt. At Horace, we've bottled it to give you that "back from the beach" effect, with the added bonus of conditioning.
How is a texturising styling spray obtained?
Horace Texturising Hair Styling Spray consists mainly of water and salt to form a watery solution. It is the salt that gives the hair density and a light hold: it has more body, more volume and is easier to style. From this light base that doesn't leave a wet look, several moisturising ingredients provide extra care for the hair.
Vegetable glycerine moisturises the hair. Acacia fruit extract strengthens the hair and makes it naturally softer and silkier. Provitamin B5, also known as panthenol, creates a protective film around the hair fibre. This makes your hair even more beautiful. This ingredient also helps to combat split ends, which are common in long hair, especially in summer. The extract of the roots of gypsophila paniculata also helps to keep your hair healthy.
What hair types is Texturising Styling Spray suitable for?
Thanks to its many moisturising agents, light hold and beach effect, Texturising Hair Styling Spray is suitable for the vast majority of hair types. Thicker and curlier hair will probably not need its volumising effect. Very dry hair should use it sparingly to limit the natural drying effect of salt.
Overall, the longer and thinner the hair, the more suitable this styling product will be, unlike a gel. It adds relief to the cut and to your hairstyle. Generally flat, oily hair will also find it a way to gain dimension as this product leaves no residue on the length.
How to use the Texturising Styling Spray?
As the name suggests, the Texturising Hair Styling Spray is sprayed into dry hair. At about 20cm distance from your head, run your hand through your hair as you spray. The result is an even, fast and effective application. Its fixing power can be modulated according to the quantity sprayed. Twisting a few strands of hair between your fingers and pressing them against your head with the palm of your hand will make them denser. Crumpling and twisting your dried hair in this way will give you light waves, simulating the look after a swim in the sea. Doing this upside down gives even more volume.
For a more tousled look, you can also apply the Texturising Hair Styling Spray to damp hair, scrunch it up roughly and then let it air dry. It will then look wispy, tousled just right for a California surfer look. Its lightness and versatility also make it the perfect counterpart to complement the action of other styling products. If you want to style it with the strong hold and matte finish of the styling Wax Pomade, and want more volume or a less precise effect, the texturising spray can be added as a finishing touch. The same goes for styling Cream Pomade with a moderate hold and natural effect: the spray will give the hair more body.
The Texturising Hair Styling Spray allows you to achieve a beach look in just a few spritzes. Its practical 100mL format is easy to carry and allows you to add your salt anywhere, anytime, as if you were coming back from a trip to the seaside.