Men's beauty on the big screen
Photos D.R.
Words Pierre d'Almeida
Skincare, waxing or deodorant: as the holiday season approaches, Horace takes a look at the few scenes in the history of cinema that focus on male beauty.
My Fair Lady, The Devil Wears Prada, Clueless, The Princess Diaries, Mean Girls... In the movies, there are many scenes of female "beauty makeovers". Those where supposedly ugly ducks are transformed into beautiful swans, thanks to the magic of makeup and the straightening iron. And the grooming in all this?
Patrick Bateman's routine in American Psycho (Mary Harron, 2000)
This must be one of the most complete and meticulously studied routines in the history of cinema. Patrick Bateman multiplies the treatments and applications of products. When he gets out of bed, he uses a series of products, in this order: decongesting mask, cleansing lotion, cleansing gel, body scrub, face scrub, face mask, moisturizing cream, eye balm and moisturizing lotion. Complete, we tell you. Moreover, with 2 hyaluronic acids and Kakadu plum, ultra moisturizing, could very well have found its place.
Tony Manero's hair obsession in Saturday Night Fever (John Badham, 1977)

The face is sacred, but so is the hair. If you are the person who always makes everyone late because he works on his hair architecture until the last second, you will recognize yourself in the pre-party routine of Tony Manero played by John Travolta in Saturday Night Fever. And especially in his anguish at the thought of someone ruining all his work. With our natural styling wax with its strong hold, he would have had less to worry about.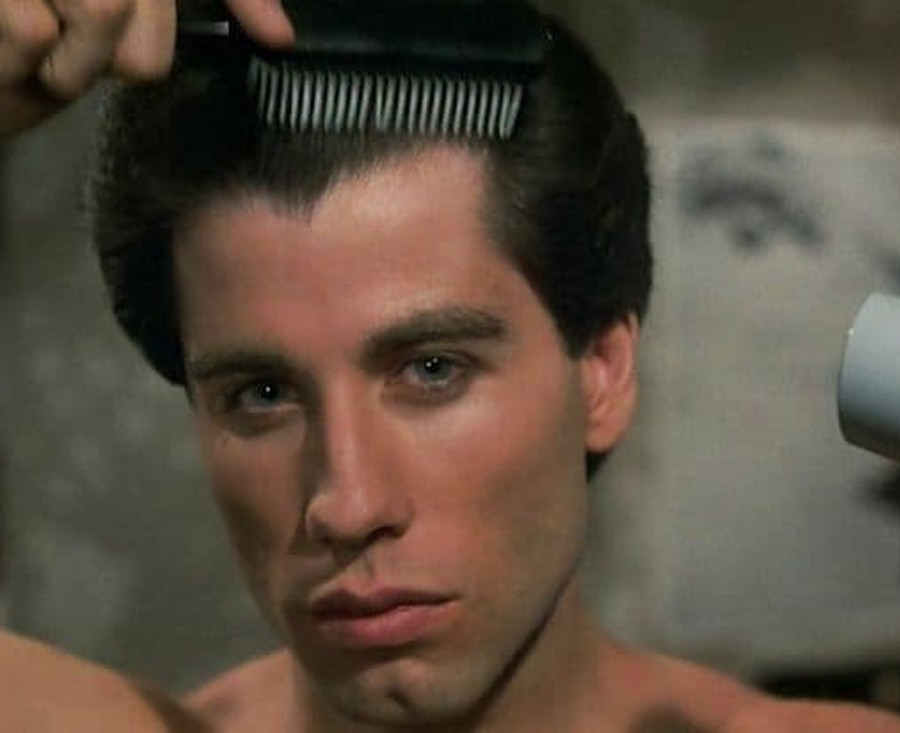 Arthur Fleck's messy hair color in Joker (Todd Phillips, 2019)
We won't say anything about Joaquin Phoenix trying to turn his hair from dark brown to green without going through the bleach/blonde box. A first mistake. Instead, let's focus on the fact that dancing so intensely while having color applied may not be the best idea in the world. For the hair, as well as the bathroom. If you want to give it a try, remember to moisturize your hair. The application of is highly recommended.
Andy Stitzer's torture session in 40 Years a Virgin (Judd Apatow, 2005)
Because it is apparently necessary to wax in order to please, Andy's colleagues - the virgin in question, played by Steve Carell - suggest that he go and remove all the hair on his chest. A scene with 100% real pain, and written by Steve Carell himself to make people laugh on the set at the time of the shooting.
Dustin Hoffman's drag makeover in Tootsie (Sydney Pollack, 1982)
Shaving legs, makeup, nail polish, wig shaping: in Tootsie, Dustin Hoffman plays the role of a struggling actor who decides to disguise himself as a woman to get a role in a soap opera. In tears, Hoffman explained in an interview in 2012 that playing in this film made him aware of the weight of female beauty standards.
The royal awakening of Akeem in A Prince in New York (John Landis, 1988)
The morning routine of Akeem, crown prince of the kingdom of Zamunda, is rather simple: wake up in silk sheets, go to the bathroom, take a bath and brush his teeth. The great thing about it is that each of these steps is accompanied by an orchestra, rose petals are thrown on the way, the bathtub is the size of an Olympic swimming pool and the body exfoliation is done by assistants. This is what we call the good life.
Kevin McCallister's self-care moment in Mommy, I Missed the Plane! (Chris Columbus, 1990)
"I washed myself thoroughly, and with soap to boot! Even my little butt, my toes, and my little belly button. I also washed my hair with shampoo, and rinsed it with conditioner." At 8 years old, Kevin / Macaulay Culkin already had it all figured out. Except maybe that aftershave tingles.
Vincent Freeman's spring cleaning in Welcome to Gattaca (Andrew Niccol, 1997)
Enemies of dead skin, go away: the introductory scene of Welcome to Gattaca is a meticulous shaving and exfoliation session filmed in very close-up, during which Vincent Freeman, Ethan Hawke's character, applies himself to rid his body of the slightest roughness. The goal: to escape the permanent DNA controls of a dystopian society in which he is not welcome. Atmosphere! Without allowing you to escape such a threat, our exfoliating soap bar is the perfect product to remove dead skin cells from the body and soften the epidermis.
Richie Tenenbaum's morbid goodbye in The Tenenbaum Family (Wes Anderson, 2001)
What Richie has just learned about his sister Margot, with whom he is in love, has brought him down. The character played by Luke Wilson decides to commit suicide. Before slitting his wrists in the family bathroom sink, he gets rid of his girlfriend's