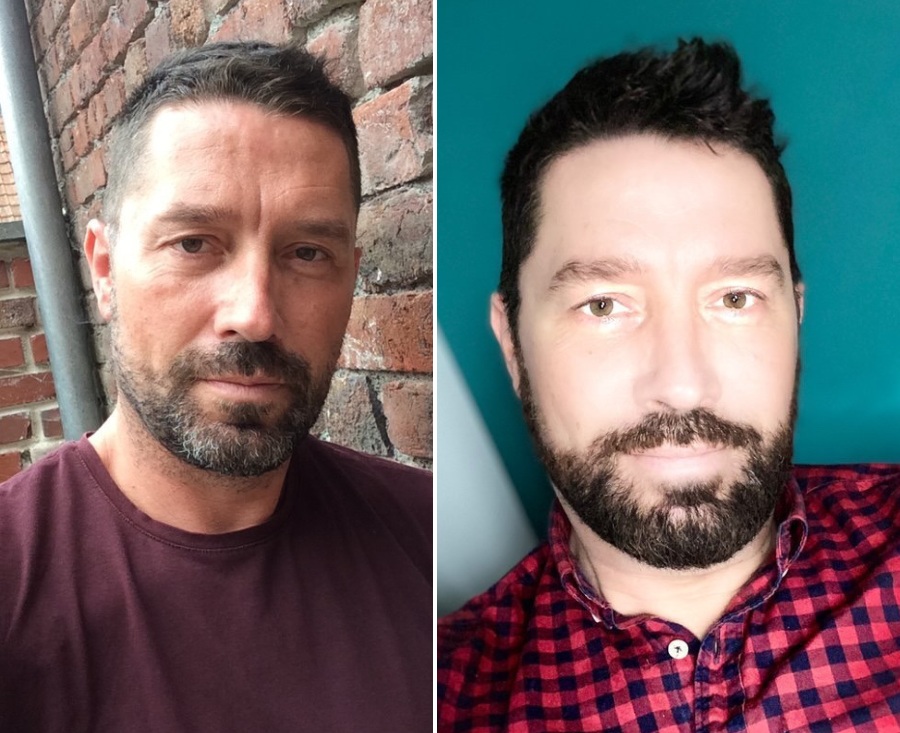 Testimony: "I started colouring my beard to hide my grey patches"
Bothered by the early signs of greying, Christophe, a 48-year-old teacher, gave in to the temptation of colouring his beard. Initially intrigued, he has since continued to dye his beard, but is becoming increasingly apprehensive about his grey hair.
"I've had a beard for about fifteen years now. In the beginning, it was dark brown, which suited me well. It started turning grey six years ago. The problem is that it didn't turn grey evenly and so I have scattered patches of grey here and there. As more patches formed, it began to look like my beard was two distinctly different colours. That's when it started to bother me because I felt that it looked artificial."
"It seemed artificial to me"
When you're young, you say that you will accept your grey hair and wrinkles, etc. But when they show up, it's tempting to want to conceal them. Yet, I let things be for a while. In reality, I didn't even think that I could or should colour my beard. I had quite a few preconceived ideas on the subject. I was convinced that the procedure would be too complicated and too restrictive for a result that I imagined as being unsatisfactory. It felt artificial to me, and I was afraid that it would be the only thing people would see. At that time, I hadn't heard of any special products for colouring beards either and I didn't want to buy women's hair dye. It just didn't seem right for me, either in terms of quantity or results.
It was when I saw an advert in a magazine for 'Just For Men' beard dye that I started to change my mind. It was a product that contained two or three doses and offered several shades. I mentioned it to my hairdresser, who told me that I should go ahead and try it and that there was no reason why the results would be bad. I also searched the internet for tutorials or photos of influencers who had already tried it. I wanted some feedback so I could imagine how it would look on me. I ended up buying beard dye from a supermarket and took the plunge.
"I was immediately impressed."
The dye is quite simple to use. No need for special techniques or experience; you just have to mix a white product with a tinted one and brush it onto your beard with a small brush. After five minutes, simply rinse it off and apply beard shampoo. That's all there is to it. You can adjust the quantity for more or less colour intensity. And the longer you leave it on, the darker the colour. I have to admit that the first time, I used too little of the product and didn't leave it on for very long. But gradually, I started using more and figured out how to get the shade that suits me best.
I was immediately impressed by the natural-looking results. In fact, nobody has ever said anything about it. When I say that I use dye, people are even surprised, which can be a disadvantage. But I see it as an advantage because the colour only lasts for two to three weeks, making regrowth quite discreet. You don't see too much grey coming back as the colour gradually fades. The grey patches are hidden under the coloured beard, making the transition quite smooth.
A transitional product
I've been loyal to this product and haven't looked for a replacement because it suits me so well. Since then, I've frequently bought it, although lately, I've had trouble finding it in supermarkets. However, that doesn't mean I apply it regularly and try to prevent all grey areas from showing. I use it based on my mood. If I look at myself in the mirror and feel the need for a little pick-me-up, I apply it. It only takes five minutes to change my appearance. That's what I like about it: I can use it based on my desires and state of mind. At the moment, I have a rather short beard, so maybe that's why I use it less often. I trim it every two to three weeks, so I keep the grey hair to a minimum. But if I feel like it, I simply make a quick trip to the bathroom, and it's done!
I'm also using less now, as my beard is starting to look more uniform. Basically, I don't want to hide all signs of ageing. For example, I don't dye my hair. In fact, it was really the patchy aspect that bothered me. I think that when my beard completely turns salt and pepper, I'll stop colouring it. Beard dye has definitely helped me to manage this transitional phase."
Maintaining your beard after colouring