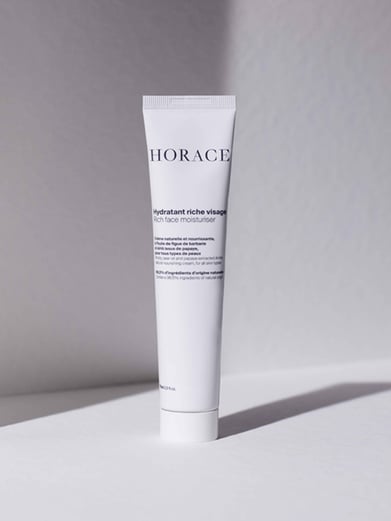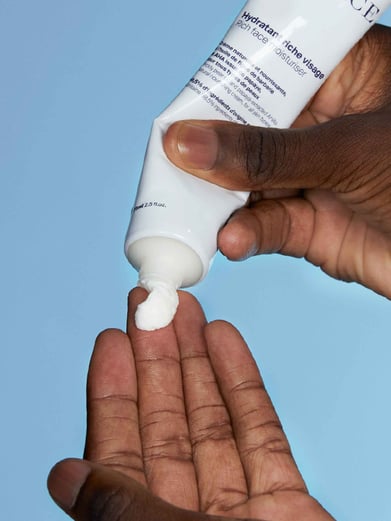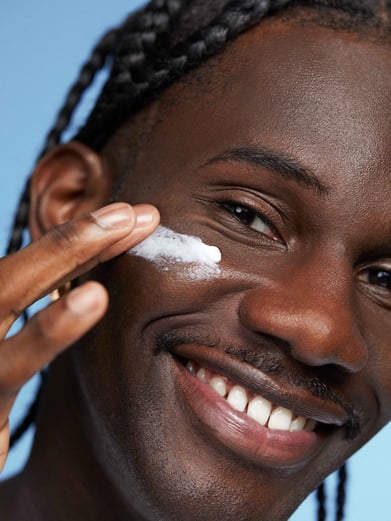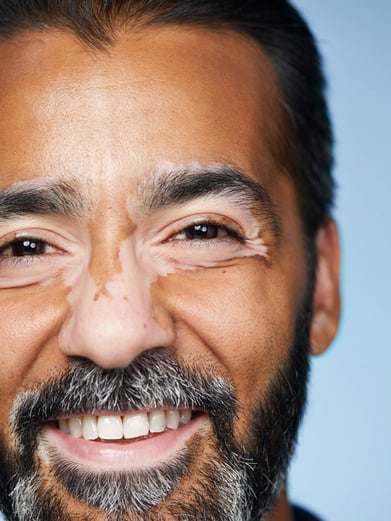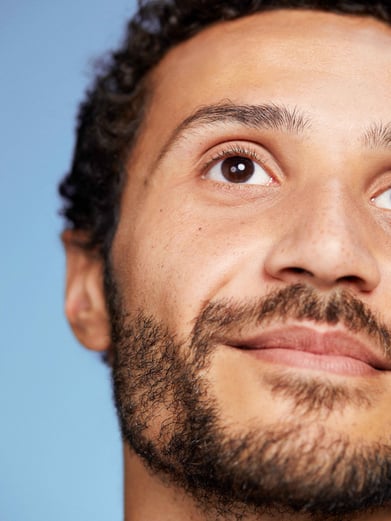 Rich Face Moisturiser
98,5% ingredients of natural origin
75ml
(Read all 1631 review(s))
What does it do?
This natural moisturiser is like a tall glass of water for your skin. It quenches thirst and protects dry skin. The key? Hydration, soothing and softness.
How do I use it?
Apply the Rich Face Moisturiser in the morning and / or evening to clean and dry skin.
Compare our four facial moisturisers
A moisturizer for every skin
Fragrance: Unscented
Good to know:
made in France, vegan, suitable for all skin types, silicone-free, paraben-free, mineral oil-free.
How to use
How to use
1. Apply the moisturiser to your clean neck and face in the morning and/or before going to bed. 2. Pay special attention to the dryest areas of the face.
Our team's tip
Our team's tip
Do you suffer from dry skin patches or scabs? Use the rich face moisturiser to soothe your skin. This also works for dermatitis, and any other form of skin dryness.
Tested and approved
Tested and approved
Learn more about our clinical tests
98,5% of natural origin
Organic prickly pear oil
Cactus fruit oil which neutralises free radicals and prevents skin dehydration
Organic shea butter
Deeply nourishes and protects even the most sensitive skin
Papaya-extracted alpha hydroxy acids (AHA)
Papaya-extracted alpha hydroxy acids (AHA)
Active ingredient which gently removes dead skin cells for a glowing skin tone
Plant-derived organic plum oil
Plant-derived organic plum oil
Smooths, nourishes and softens the skin. Provides protection against dryness
Show full list
Ingredients full list
Contains 98,5% natural ingredients and 13,5% certified organic ingredients.
Aqua (Water), Caprylic/Capric Triglyceride, Butyrospermum Parkii (Shea) Butter*, Prunus Domestica (Plum) Seed Oil*, Cetearyl Alcohol, Glycerin, Opuntia Ficus (Prickly Pear) Indica Seed Oil*, Cetearyl Glucoside, Carica Papaya (Papaya) Fruit Extract, Allantoin, Tocopherol, Citric Acid, Silica, Maltodextrin, Carbomer, Sodium Hydroxide, Dehydroacetic Acid, Benzyl Alcohol.

*Certified organic ingredients

The list of ingredients may be subject to change, we advise you to check the list on the purchased product.
Safe synthetics ingredients (synthetic ingredients considered safe for your health, with proven safety and effectiveness)
Scan it with your favourite app!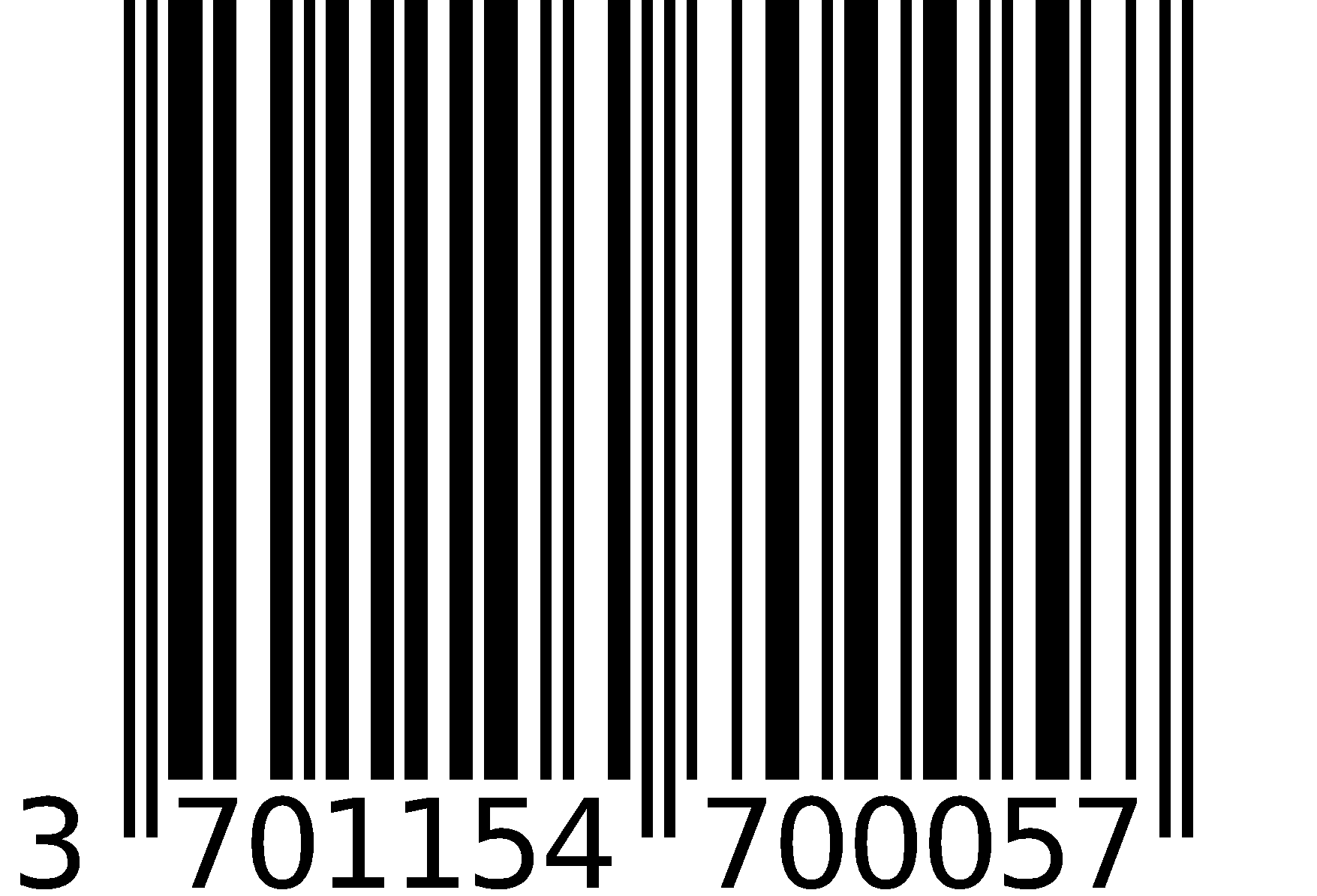 Silicone-free
Paraben-free
Mineral oil-free
An opinion on this product?
Previous formula
Old packaging
Recommend this product
It's helpful !
people think it's helpful
people think it's helpful
Ask a question on this product.
Thank you for your question. A moderator will look at it, and we'll get back to you with an answer
Review guidelines
Questions are meant to help other users. To write some really good ones, please focus on questions relating to what the product gives you, its composition or why and how you use it.
Be careful! Comments about customer service, delivery, new product releases or new formats of this product don't belong here. Please send them to us directly at [email protected]
*Required fields
Horace s'engage à proposer des produits sains et naturels pour homme. Vous souhaitez trouver un soin efficace pour votre peau sèche ? Alors optez pour notre crème hydratante naturelle qui vous offrira hydratation et protection optimale contre toutes sortes d'agressions pouvant perturber votre peau.
Les peaux sèches sont, par définition, en manque d'hydratation. Notre soin hydratant riche pour le visage a pour objectif de réhydrater votre peau, la nourrir en profondeur, la protéger de la sécheresse et lui apporter la douceur qu'elle mérite.
Découvrez les vertus des ingrédients naturels de notre crème hydratante pour homme
Garanti sans paraben, sans sulfate et sans huile minérale, notre crème hydratante pour homme est formulée avec 98,5 % d'ingrédients d'origine naturelle :
Le beurre de Karité bio : nourrit votre épiderme en profondeur et vous apporte une protection optimale aux agressions extérieures comme le froid ou la pollution. Cet ingrédient est idéal pour les peaux les plus sensibles et est très populaire au sein des formules des produits hydratants..
L'huile de prune bio : aide à prévenir le dessèchement de la peau et l'adoucit efficacement
L'huile de figue de barbarie : excellent pour neutraliser les radicaux libres, hydrater en profondeur et prévenir la déshydratation
Les AHA (Acide alpha-hydroxylés) issus de la papaye : des ingrédients qui vont apporter une exfoliation très légère à votre peau en aidant votre renouvellement cellulaire. Vous retrouverez un teint éblouissant.
La synergie de ces quatre ingrédients naturels vous apportera toute l'hydratation nécessaire à votre peau sèche.
Comment utiliser notre crème hydratante ?
Vous pouvez appliquer notre crème hydratante riche le matin comme le soir, ou les deux, sur votre visage ou votre cou, en vous concentrant sur les zones les plus sèches. Nous vous conseillons tout de même de choisir une utilisation le soir, avant de vous coucher, pour permettre au produit de pénétrer en profondeur durant toute la nuit. De plus, le renouvellement cellulaire se fait la nuit, il est donc important de bien l'hydrater avant d'aller se coucher afin d'avoir une peau souple et sans tiraillement au réveil.
Voir plus Voir moins